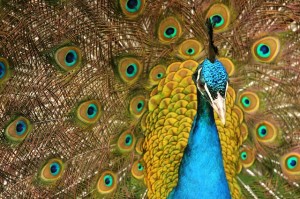 Sunday, March 16: If you've been working on a publishing or broadcasting project, planning a big trip, or dealing with a foreign person or place, today may be the day that everything come together. This is due to the full moon which occurs today in your 9th house of broad horizons. Because the moon is so nicely angled to Saturn in your 11th house, it seems  that this may be a long-held goal of yours.
Monday, March 17: Happy St. Patrick's Day! Mercury enters your third house of travel and communication today, giving a boost to contracts and writing projects. Mercury also reaches out to the North Node in Scorpio and your house of friendship, making this a fine time to take a trip with friends, or perhaps write a letter or email to an old buddy. Why not grab a group of pals and go to a pub tonight to celebrate the holiday? Your aspects indicate great fun and conversation.
Tuesday, March 18: If you've been looking for a new place to live or considering redecorating your home, today may bring wonderful news, as Venus in your income sector trines Uranus in your 4th house of home. You may find that you have the money to buy or rent the perfect spot, or perhaps do renovations on an existing home. Perhaps it's something as simple as buying a new set of towels that you love. Alternatively, you may learn of a generous inheritance or gift from a family member.
Wednesday, March 19:  The Moon in your house of hopes and dreams waves hello to beneficial Jupiter in your 7th house of partnerhship projects today, and you may be feeling good about your future with a certain someone. You may have some slight reservations about how much that future will cost you financially, but this will be a passing worry.
Thursday, March 20: The Sun leaves your communication house and enters your 4th house of home, so it seems your focus is shifting to this area. Proceed carefully, as the end of the month brings turbulence to this area. Something unexpected may pop up with your career that throws your home plans for a loop. Don't get yourself into anything that you can't get out of.
Friday, March 21:  Mercury conjuncts Neptune in your communication house today, and if you're a writer, this would be the day to put pen to paper- you don't want any of those great ideas to pass you by. If you're in a creative field, a contract may present itself to you, and if so, it seems that it would be a good opportunity. If you're not in a creative field, be sure to read over any contracts or offers carefully, as Neptune can hide details. You wouldn't want any surprises later!
Saturday, March 22: The North Node enters Libra and your career sector today, and between now and October 2015, the Universe will push you to push yourself in this area. In fact, you may even suffer setbacks on the home front, as the north node encourages you to focus on your career. This should come easily to a Capricorn, as your sign is absolutely built for the executive ranks, and in fact, the 10th house is the house your sign rules. Now's the time when you may experience great rewards in your profession. To read more about north node astrology, check out Jan Spiller's Astrology for the Soul.
 Full Capricorn March Horoscope
[iframe style="width:120px;height:240px;" marginwidth="0″ marginheight="0″ scrolling="no" frameborder="0″ src="http://ws-na.amazon-adsystem.com/widgets/q?ServiceVersion=20070822&Operation=GetAdHtml&ID=OneJS&OneJS=1&source=ss&ref=ss_til&ad_type=product_link&tracking_id=positivelyast-20&marketplace=amazon&region=US&placement=0553378384&asins=0553378384&show_border=true&link_opens_in_new_window=true&MarketPlace=US">