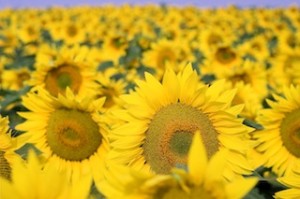 Sunday, March 16: A career matter may come to a head today, and all signs point to good news for you my friend! You may get a new job, a new promotion, or find yourself in the spotlight in some way. The beautiful angle of Saturn ensures that this will be a positive development in your life, and also indicates that the position may be creative in nature. Those who work in a medical or institutional field are also favored.
Monday, March 17: Happy St. Patrick's Day! Mercury enters your fourth house of home today, and you may find yourself working from home more for the next few weeks. Alternatively, you may be drawing up plans for a home renovation, or perhaps working on some kind of housing contract. Mercury also reaches out to the North Node in Scorpio and your 12th house of closure, indicating that you may be preparing to sell your home.
Tuesday, March 18: Venus in your 3rd house of communication trines Uranus in your 5th house of love, fun, and children today, indicating a fine time for romance. If you're able to take a short trip with your beau, you should, but at the very least, make use of this energy and spend the evening chatting over a bottle of wine. You may also hear good news regarding a child or creative project.
Wednesday, March 19:  The Moon in your 12th house of secrets and closure today may see you a little introspective and quiet. This is a good time to work on creative projects and relax. You may hear good news about a financial matter, although aspects also indicate a communication snafu of some kind. Lay low, take a bath, and take care of yourself. Friday the moon will be in your sign, and you can come out of your shell.
Thursday, March 20: The Sun leaves your housing sector and enters your 5th house of romance, creativity, and children, an aspect that is usually met with much joy and fun. While indeed things may go swimmingly for the next week or so, proceed carefully, as the end of the month brings turbulence to this area. Something unexpected may pop up with your finances that throws leisure plans for a loop. Don't commit yourself to any unnecessary expenses at this time.
Friday, March 21: Mercury conjuncts Neptune in your home house today, which could bring confusion to a housing contract. If you're supposed to sign a lease on the dotted line today, I would hold off. March 26th is a much safer bet. If you're buying a piece of art or working on a creative project from home however, today may bring good news.
Saturday, March 22: The North Node enters Libra and your 11th house of friendship today, and between now and October 2015, the Universe will push you to be a team player. Group collaborations are favored for you at this time, so if you're usually angling for attention or trying to be the star of the show, you may experience setbacks.  To read more about north node astrology, check out Jan Spiller's Astrology for the Soul.
 Full Sagittarius March Horoscope