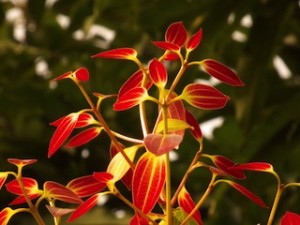 Sunday, March 23: The Sun is now lighting up your 3rd house of communication and transportation, indicating that you may be doing lots of busywork such as emails, errands, and car trips. Today, the Sun will square the Moon, and you may have a communication break-down of some kind- perhaps you get in a fight with someone, or hidden information comes out that upsets you. Alternatively, you could experience a transportation issue such as car trouble or a delayed train. This would not be a good day to sign a contract or make a commitment. Take a deep breath- this influence is only temporary.
Monday, March 24: Today may bring some anxiety your way, as the Moon joins powerful Pluto in your 12th house of endings. If you're dealing with any kind of inner demon, or if you're trying to let go of a chapter of your life, today may see those emotions magnified. I don't want to say it's all in your head…but today, it just might be all in your head. Watch a comedy, take a bath, and try to relax.
Tuesday, March 25th: Today should be pleasant, as the Sun makes sweet harmony with the Moon in your sign. What a welcome change from the past few days! You may feel good about a writing or communication project, or get an email or letter that makes your day. Perhaps you hear good news about a sibling.
Wednesday, March 26th: Mercury in your income house trines Jupiter in your house work and health today, indicating good news about your salary or job. You may have done such good work that you hear news of a raise, or perhaps your profits are up this month. Nicely done!
Thursday, March 27th: The money luck continues today, as Mercury in your sign sextiles Pluto in your house of closure. If you didn't hear good financial news yesterday, then it seems you must today! Perhaps you earn money from a sale or creative project, or you're gifted an inheritance of some kind. Spend it wisely!
Friday, March 28th: With the Moon conjunct Mercury in your income house, it seems you're coming up with ways to earn money left and right. Perhaps a recent financial gain gave you the confidence to put some more of your money-making ideas in practice. Just be sure to have someone look over the details of your plans to make sure you didn't miss anything, as this influence  can make you a little scattered.
Saturday, March 29th: With Venus in your sign trine Mars in your 9th house, you may decide to plan or go on a trip with your honey. Be careful however, as Venus will also square Saturn in your 10th house, indicating that career duties may get in the way of your fun times. Don't stress about it too much- your boo will understand that work has to come first sometimes.