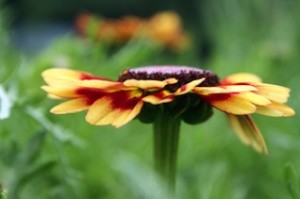 Sunday, March 23: Lucky Aries! A few days ago, the Sun began to make its way through your sign, marking your own personal new year! It is a good time of year to initiate personal projects, relationships, and goals. Today might be a tough one for your career however, as the Sun squares the Moon in this sector. It seems that career news could be discouraging, or perhaps professional obligations get in the way of personal plans. Although this is a passing influence, the planets will brew up more trouble in this sector by the end of the month, so take whatever comes up seriously.
Monday, March 24: It seems you've been going through major career changes ever since 2008, when Pluto entered Capricorn. You may have totally transformed your job, career, or even life path, as Pluto is known to tear everything up from the inside out, much like a bulldozer. Today, the Moon joins Pluto (as it does once a month), bringing this part of your life to the front of your mind. There's a chance that career matters will have you worried or stressed, but this influence also offers you the opportunity to make great strides in your work. Harness this powerful energy to make any positive changes you need.
Tuesday, March 25th: Today is a great day for friendship and long-term plans, as the Moon in your 11th house waves hello to the Sun in your sign. You may feel good about any progress you're making towards your life goals, or you may simply enjoy the fact that you have a good support system in your life. Make good use of this energy by grabbing some pals and doing a fun activity together tonight.
Wednesday, March 26th: Today is a lovely day, as Mercury in your 12th house of closure trines Jupiter in your 4th house of home. You may sign a lease for a new apartment or perhaps make an offer on a house. The energy is just right to sign on the dotted line, so go ahead. If you've been meaning to reach out to a family member, today would be a great day to do so. I bet it would make their day.
Thursday, March 27th: Career matters get a boost today, a welcome relief after any tensions from earlier in the week. Mercury in your 12th house now reaches out lovingly to Pluto in your 10th house of career, favoring any rams in creative, medical, or institutional fields. This aspect could also signify the end of a work project, job, or profession, but if this is the case it appears to be for the best. The Universe wants you to clear out the old, so that you can make room for new beginnings in your life.
Friday, March 28th: With the Moon conjunct Mercury in your 12th house of closure, you may be deep in your own thoughts. This is great if you're creative, or working hard on a behind-the-scenes project that has yet to launch. You seem to be full of good ideas, and the work you do now will benefit you when it comes time to make your launch. If you're a writer, you must use this energy to put pen to paper. Just be careful that you don't get too wrapped up in any self-defeating thoughts if they come your way, as indulging in those won't do you any good. Also, there's a chance that a secret or piece of hidden information comes out today that could upset you. Try to keep your emotions (aka legendary temper) in check. If you sleep on it, you may just find you won't care that much tomorrow.
Saturday, March 29th: Today, Venus, currently gliding through your 11th house of hopes and dreams, makes a lovely trine to your ruler, Mars, in your 7th house of partnerships. This could mean big news for a long-term goals, as you may possible bring on a business partner or decide to work for someone else. If you're dating, you may now make a serious commitment to your love, either deciding to become exclusive, or possibly even getting engaged. While this is a lovely aspect, it seems you'll have some concerns about money, as Venus also squares Saturn in your 8th house of other people's money. Perhaps you and your business partner are turned down for financing, or can't agree on how to split your profits. If you're getting engaged to your boo, you may still have some kinks to work out when it comes to who-pays-for-what.