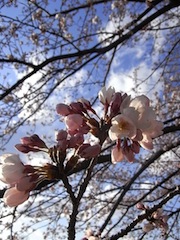 Summary: A month focused on money and career. Mid-month, you may get jarring financial news, or on the flip side, learn of an inheritance or bonus. The end of the month could bring an important contract or commitment, perhaps made in love or business.
Extended Horoscope: The solar eclipse on April 28th occurred in your income sector, and reached out happily to both your closure and your career sectors, indicating that you may soon accept a new job with an awesome new salary, perhaps even in a medical, institutional, or creative field. This may take up to 6 months to play out, and could culminate around the full moon in this sector in November.
May 5th will be beautiful as well, as the Sun in your money house pings Jupiter in your home house. Family matters will go swimmingly on this day, and you may even put some of your money into buying or redecorating a home.
Watch out for May 2nd, when Mercury and Saturn will oppose each other in your money houses. The line between yours and partner's financial contributions may be blurry or come up for review, or perhaps you find you spend more than you make. This influence will be similar on May 10th, when it will be the Sun's turn to oppose Saturn.
Venus enters your sign on May 3rd, making for a great time to update your look or charm the pants of that special someone. Just watch out for May 11th, when Venus will oppose your ruler, Mars, and you may argue with a business or personal partner. On this same day, Mercury will anger Neptune, and a secret could come out that upsets you. Alternatively, you could put your foot in your mouth, or encounter problems while in the car or traveling locally. Do not sign any contracts on this day.
Luckily, May 12th should be lovely, as Mercury will smooch Mars, and you may make a great commitment in love or business. This is a much better day to sign a contract or take a trip.
May 14th brings a full moon to your 8th house of shared finances and transformation, which is closely conjunct to Saturn. Saturn is the planet of tests and limitations, so this may be a difficult time for you. You could learn of a large expense you owe, or perhaps find you need to undergo a surgery. Of course, it's always possible you inherit a sum of money, and you may even be able to rid yourself of a toxic or one-sided romance at this time. The 8th house is where you dig deeply into your own psyche, so dig in and see what you find! Complicating matters on this day is the fact that Venus in your sign angers Pluto in your career house. You may fight with your employer or encounter a career snag, or you could even argue with a spouse.
Luckily, on May 24th, Jupiter will ping Saturn in your 8th house, and money may come to you just when you need it. You may even get an inheritance, or a home loan could come through. Alternatively, you may put a down payment on a home, or put money into fixing up your existing place.
May 15th is another great day, when Venus will conjunct Uranus in your sign, and the pair will reach out to Mercury in your communication and contract house. You may sign a beneficial new contract, get a new car, or hear good news about a sibling. This is also a great time to take a quick trip out of town- it may even end up being quite romantic!
A day to watch out for May 18th, when Venus will anger Jupiter in your home and family sector. Housing plans may go awry, or you could argue with a family member.
Luckily, on May 19th, you ruler, Mars, finally goes direct after being retrograde since early March! Mars is currently in your partnership sector, so if you've felt stuck in the mud in this arena, you may soon gain more clarity! Partnership matters will speed up, as will personal projects!
The month changes tone after May 21st, when the Sun moves into Gemini and your 3rd house of communication, travel, and contracts. In fact, a new moon occurs in this sector on May 28th. The moon will be arm in arm with Mars in your partnership sector, indicating you may be making a big commitment at this time! You may sign on the dotted line with a new employer or business partner, or perhaps even make a commitment in love, maybe getting engaged or married! Just be careful, as the moon will square Neptune in your closure sector. Read the fine print carefully, and prepare for Plan B in case your travel plans go wrong!