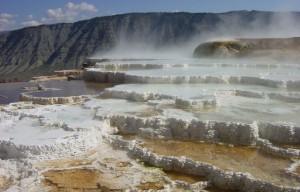 Summary: The beginning of the month sees you focused on home and family, and you may even move or complete a housing project. Mid-month, a career matter comes to a head, possibly netting you some funds in the process. The end of the month turns your focus to love, fun, and children, as Jupiter enters this sector for the next year.
Extended Horoscope: July 1st sees Mercury go direct in your communication sector, so if you've been stuck in the mud on any writing projects or negotiating a contract, clarity will now resume. Travel and transportation plans will speed up as well.
In fact, an agreement to partner up in love or business may come your way on July 4th, when Mercury pings the North Node in your two commitment sectors. Happy 4th of July, indeed! July 13th may bring even better news to partnership matters, as Mars conjuncts the North Node in this house, and the pair reach out to Venus in your communication house. You may may a deeper commitment in love or business, or perhaps go on a fun trip with your boo.
July 6th is another great day, when Venus smooches Uranus in your own sign of Aries. This is a great day to sign a contract, make a commitment, or go on a trip. Alternatively, you could purchase a vehicle or hear good news about a sibling.
Switching gears a bit, the beautiful new moon on June 27th occurred in your housing sector and came arm in arm with Neptune in your closure house. You may soon move, complete a housing or family project, or say goodbye to a family member, and if so, it appears to be a positive development.
Your focus turns even more closely to housing and family matters as planets migrate into Cancer throughout the month. Mercury joins on July 13th, while Venus does so on July 18th. And as I'm sure you remember, Jupiter has been in this sector since July 2013!
July 8th and July 24th may bring good home news your way, as the Sun and then Mercury in this sector send beautiful beams to Saturn in your money house. You could get approved for a home loan, or get a financial gift from your family. More positive news may follow on July 19th and July 24th, when Mercury and then Venus smooch Neptune in your closure house.
Do be careful for some overlapping challenges on these days however, as the Sun and Mercury irritate Uranus in your own sign on July 8th and July 24th. Developments may interfere with existing personal plans, or affect your autonomy in some way.
July 15th and July 18th are two more troublesome days, when the Sun will be angry with planets in your partnership sector. You could argue with your boo about a housing or family development, or alternatively argue with your family about your boo!
In addition, we have the mighty Pluto in your career sector facing off against several planets in your home sector throughout the month. It's possible that housing developments will interfere with career plans, or a career development interferes with housing plans! You are likely to feel this influence most on July 4th, when the Sun will oppose Pluto; on July 21st, when Mercury will oppose Pluto, and on July 27th, when Venus will oppose Pluto.
In fact, it seems a career matter will come to a head on July 12th, when a full moon occurs in this sector and comes hand in hand with Saturn in your money and transformation house. You may get a bonus at work, or perhaps receive funding for a professional endeavor. It's also possible that your spouse comes into some money.
Again, it seems that whatever comes up will be challenging however, as the full moon angers Uranus in your own sign of Aries. Perhaps a housing or career development means you must uproot the life you have built for yourself. Uranus will actually turn retrograde (I know- it never ends!) in this same sector of endings on July 21st, indicating that over the next five months your identity may undergo a profound transformation. In fact, big news may come your way in October with the Aries lunar eclipse, and it could involve a a love affair, pregnancy, or creative project!
That's because the biggest news this month- heck, this whole year!- is good-luck Jupiter's move into Leo and your 5th house of children, romance, and leisure on July 16th. Between now and Summer 2015, you may have a baby, fall in love, or give birth to a creative project of some kind. In general, it seems you're about to have some real fun!
Watch July 25th as a day when you could get good news regarding one of these areas, as the Sun will conjunct Jupiter in Leo at 3 degrees. Then, on July 26th, a gorgeous new moon appears in this sector that's hand in hand with Jupiter, setting a wonderful tone for romance, children, and fun for the whole year! If you're not trying to have a baby at this time, take the necessary precautions, cause you're going to be a fertile mertyl!
Just be careful, as Mars will square the pair from your finance sector, indicating that whatever comes up could prove to be very expensive!
With Mars entering Scorpio on July 26th, he joins our buddy Saturn who's been there since October 2012. This is an odd pairing, given that Mars likes to speed things up and Saturn likes to put on the pressure. You may be spending a lot of money and going into debt, or dealing with a partner's fluctuating income! Watch out for August 25th, when these two powerful planets collide. Because Venus in your fun and love sector at that time will square the pair, it seems likely to be an expensive day.