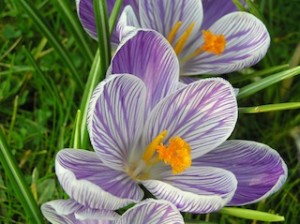 Sunday, March 16: A beautiful full moon occurs in your 6th house of work, and it's hand in hand with Saturn in your house of other people's money, indicating that you may obtain or begin a brand new job or work assignment at this time. If so, it appears to be well-paid- perhaps you get a signing bonus or raise. Alternatively, you may decide to invest some money in your health, by either joining a gym or going on a healthy meal plan of some kind. If you still need health insurance, now's a great time to sign up.
Monday, March 17: Happy St. Patrick's Day! Today, Mercury enters your 12th house of closure and creativity, giving the edge to behind the scenes projects. This is a great time to work on any writing or creative work that needs to be done in solitude. Additionally, today and tomorrow, Mercury reaches out to the North Node in Scorpio and your 8th house of money, indicating that money could be made from whatever you're working on.
Tuesday, March 18: Venus, currently gliding through your 11th house of hopes and dreams, makes beautiful music with Uranus in your own sign today, a great aspect for any long-term projects or aspirations. Because Venus governs your income house, you may even hear good news in this arena today. Friendships are well-starred as well, and an important person may even come into your life who can help you with career matters.
Wednesday, March 19:  The Moon spends the day in your 8th house of finances and reaches out to Jupiter in your home house, indicating that you may feel you're on the right track in terms of a housing or home matter. While you may experience brief worries about a friendship or long-term goal, this will only be a passing influence.
Thursday, March 20: The Sun leaves your quiet 12th house of closure and endings and enters your sign today, sure to come as good news for a bright and social sign like yours, dear Aries. You may now begin new initiatives, as this time represents your own personal new year. The next week should be well-starred, but be sure to keep your eyes open, as the new moon in your sign at the end of the month comes flanked with some chaotic aspects, and you may hear unexpected news regarding a home or career matter. Mid-April may bring partnership news as well, and it could throw personal plans for a loop.
Friday, March 21: Mercury conjuncts Neptune in your house of closure and secrets today, which could mean great news if you work in a creative or artistic field. Since Mercury rules your work house, you may even see a plum creative assignment pop up. On the other hand, conjunctions can bring unexpected news, and Neptune is known for its deceptive and sneaky ways, so be sure to enter any agreements with your eyes wide open. March 26th would be a much better day to sign a contract if one comes up, as Mercury will trine Jupiter at this time.
Saturday, March 22: The North Node enters Libra and your 7th house of partnerships today, encouraging you to pair up in love or business. If you're used to going it alone, the universe will now ask you to think about another, and at times over the coming year and a half, you may even encounter setbacks in personal initiatives, as the South Node travels through your sign. Don't worry too much if the coming month is discouraging, as September will be a lovely time for personal projects and goals. For now, allow yourself to depend on another. To read more about north node astrology, check out my favorite book on the subject, Jan Spiller's Astrology for the Soul.