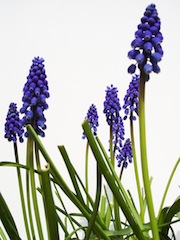 Sunday, March 16: You may make a commitment or sign a contract today, as a full moon occurs in this sector (Virgo) for you. Because the moon is so nicely angled to Saturn in your 5th house, the matter may surround a romance, creative project, child, or hobby. Perhaps you become engaged or sign a contract for a creative work. You may also hear news about a sibling, vehicle, or writing project.
Monday, March 17: Happy St. Patrick's Day! Mercury enters your 9th house of foreign people and places today, indicating that travel or higher education is on your brain! These are excellent aspects to work on a manuscript or other writing project, such as a thesis or academic essay. You may also plan or take a trip at this time. Today, Mercury reaches out to the North Node in Scorpio and your 5th house, indicating that that your writing or travel may involve a romance or child.
Tuesday, March 18: Venus, currently gliding through your 8th house of other people's money, makes beautiful music with Uranus in your career house today, indicating that a bonus may come to you on the job. Alternatively, a spouse may hear good money news. Whatever comes up seems to be unexpected, but a welcome surprise nonetheless.
Wednesday, March 19:  Your ruler, the Moon, in your 5th house of romance and creativity is nicely angled to Jupiter in your own sign today, indicating that you seem very content in matters of the heart. While you may have some concern about a financial matter, this should only be temporary.
Thursday, March 20: The Sun leaves your house of travel and enters your 10th house of career today, shifting your focus to professional endeavors. While the next week should see a boost to career matters, watch carefully any news that comes up, as you may soon encounter turbulence in this sector. The end of the month will see some fighting taking place between planets in your career, partnership, and self houses, indicating a lot of change on this front.
Friday, March 21: Mercury conjuncts Neptune in your travel house today, great news for any writers out there. You seem to be full of inspiration and creativity, so be sure to write down your ideas so they don't get lost in the ether forever! If a contract comes up, try to hold off until March 26th, when Mercury will make a beautiful angle to Jupiter in your sign.
Saturday, March 22: The North Node enters Libra and your 4th house of home today, encouraging you to focus on this area of life. In fact, at times over the coming year and a half, you may encounter setbacks in your professional life, as the South node traverses Aries and your 10th house of career. The universe does this to remind you to focus on building a solid home foundation to support you. By doing that, success will ricochet back to your professional life. In September, you may hear fantastic professional news, so try to take any setbacks in April with a grain of salt. To read more about north node astrology, check out my favorite book on the subject, Jan Spiller's Astrology for the Soul.