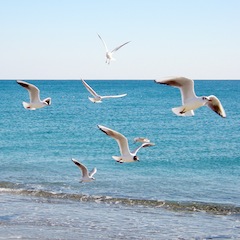 Summary: A month focused on career and money. Mid-month, a home issue may climax, and it's possible you decide to move. The end of the month puts long-term plans and friendships into focus, and could usher a close relationship into a new era.
Extended Horoscope: The new moon on May 28th could sweep in a new career opportunity for you, and Mars' good angle indicates it may come with an awesome new salary! Perhaps you get a promotion and a salary bump, or maybe you get a whole new job!
Just be careful, as the moon will anger Neptune in your 7th house of partnerships, suggesting that a personal or business partner could be upset by these newfound developments. If you do take another opportunity, try to let your current employer down gently.
You may hear good salary news on June 5th, when the Sun smooches Uranus in your money house. Good career news may come on June 19th, when the Sun conjuncts your ruler, Mercury in this sector.
Things could get a little hectic this month, as your ruler Mercury retrogrades in your career sector from June 6th to July 1st. If you're starting a new position, it may take some time to catch up and learn the ropes. It's also possible that a career opportunity disrupts existing life plans, which you now need to revise. Because Mercury is your ruler, you tend to feel its retrograde more than most signs, so try to keep your cool if things seem a little confusing. It will all straighten out soon enough.
Venus spends the month in your travel sector, keeping the party going in this sector for most of the month. Watch June 4th and June 8th as good days for travel, education, and higher thinking. If you can travel with a romantic partner, this is a great time for it!
Try to avoid travel, however, on June 12th, as on this day, Venus will oppose Saturn in your travel sectors, indicating that you could encounter delays and setbacks. This would also be a poor time to make a commitment, especially considering your ruler is still retrograde.
It seems you will be far too busy with home matters to travel anyways, as the full moon that takes place on June 12th occurs in your home and family sector. You may move or hear family news at this time, and it appears money may be involved, since the moon trines the North Node in your income sector.
Try not to spend any unnecessary money, as two days later, on June 14th, an unexpected expense could crop up regarding a hobby, leisure activity, child, or love affair, when Mars angers Pluto in these sectors.
Your attention turns to long-term projects and social engagements on June 17th, when Venus smooches the Jupiter in this sector, and on June 21st, when the Sun moves into this sector. Parties and plans come into focus at this time, as well as life goals, hopes, and dreams!
June 23rd could be a tricky day, however, as Jupiter angers the North Node in your income house, suggesting a financial snag of some kind. June 24th isn't much better, as Mars and Uranus oppose each other in your money houses, blurring the lines between earned and shared income.
Luckily, the end of the month shines, as the new moon occurs on June 27th in your life goals and friendship sector, and is arm in arm with Neptune in your partnership house. You may begin a whole new chapter with a romantic partner, perhaps soon moving in together or becoming engaged! It's also possible you partner up in business, maybe co-founding a company with a friend or colleague. Lucky you!
Virgo Full 2014 Yearly Horoscope