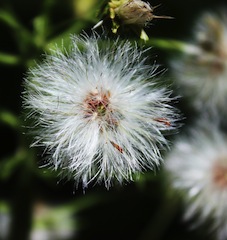 Sunday, March 23: Work and health seem to be on the brain these days, as the Sun lights up this sector for you now. Today may bring problems to this area however, as the Sun will square the Moon, and you may get in a fight with a co-worker, or a project could go awry. Alternatively, you may experience a transportation breakdown of some kind, such as a flat tire or train delay. Although this is a passing influence, the planets will brew up more trouble in these sectors by the end of the month,  so take whatever comes up seriously.
Monday, March 24: You may be seriously re-thinking the way you communicate or commute, as your ruler, Pluto, has been transiting through Capricorn and your 3rd house of communication and transportation since 2008. Today, the Moon joins Pluto (as it does once a month), bringing this part of your life to the front of your mind. Harness this energy to make strides towards whatever you're trying to achieve, whether that's a writing project, a sibling matter, or even taking a trip or buying a vehicle, and try to keep any enhanced emotions at bay.
Tuesday, March 25th: Work matters should go smoothly today, a welcome relief after Monday's tensions. This is because the Sun in this sector will be in friendly alignment to the moon. In fact, you may even decide to work from home today, with the Moon spending the day in your housing sector. Wherever you're working, work and home needs appear to be in alignment, and if you need to move for work, you seem to feel good about it.
Wednesday, March 26th: Today is a beautiful day for romance and fun, as Mercury in this sector trines Jupiter in your 9th house of travel and foreigners. If you're single, you may meet a paramour from another country, and if you're already dating someone, you may decide to take a fun, faraway trip together. Alternatively, you may be working on a creative writing project or publishing venture, and if so, today could bring good news. It's a great day to sign any contract that comes up. This is a beautiful aspect that only comes a few times a year, and you get an extra benefit, since Mercury and Jupiter are both in water signs (Pisces and Cancer, respectively), and you are also a water sign.
Thursday, March 27th: Love and fun continue to be well-starred today, as Mercury in this sector now reaches out lovingly to Pluto in your communication and transportation house. Contracts are again favored, as are trips, writing projects, and communication of any kind. You may find yourself happily on the same page as a beau or child, and you may even make a commitment of some kind.
Friday, March 28th: With the Moon conjunct Mercury in your 5th house of romance, you may be feeling all mushy mushy towards your honey. Love notes and sweet nothings seem to be on your agenda, as you find yourself swept away by your boo. If you're not dating anyone, you may alternatively be hard at work on a creative project or hobby today. Harness all the amazing ideas flowing out of your brain today to make something amazing.
Saturday, March 29th: With Venus in your 4th house of home making a fine aspect to Mars in your closure house, you may be moving or saying goodbye to a family member who is moving. While this is a lovely aspect, it seems that home and family matters might cause some strife to any personal plans, as Venus also happens to square Saturn in your sign today. Perhaps it's the other way around- work or some other commitment you made is getting in the way of enjoying quality family time.   Tomorrow's new moon may stir up more trouble on the work and communication front, so try to appreciate any familial or housing blessings in your life.