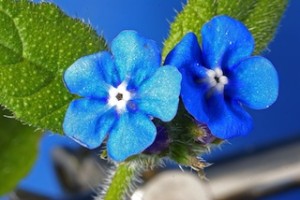 Sunday, March 23: The Sun is lighting up your income house now, indicating that money and possessions are on the brain. Today, the Sun will square the Moon, and you may feel discouraged about financing for a long-term project. Alternatively, you could suddenly feel you're spending too much on social engagements, or perhaps you even fight with a friend over money. Although this is a passing influence, the planets will soon brew up more trouble with your finances,  so listen to any warning signals your gut is giving you.
Monday, March 24: You may feel some powerful emotions about a friendship or long-held goal today, as the Moon conjuncts Pluto in this sector. If you're hanging out with friends or with a co-worker, be aware that you are more likely to engage in a power struggle today than at another time. While this aspect can give you great stamina to complete a project, try not to step on anyone's toes.
Tuesday, March 25th: Today should be pleasant, as the Sun makes sweet harmony with the Moon. If you're trying to complete a creative project, today would be a fine time to do so, as your mind is at peace. You may even get a surprise payment today, possibly from the sale of a possession (such as selling something on ebay) or a creative work (such as a painting, book, etsy craft, etc).
Wednesday, March 26th: Mercury in your sign trines Jupiter in your 5th house of love and creativity today, making this a fine time to work on a creative project, especially one that involves writing or mental work. Since Mercury rules news, you may even get some good news regarding a child, lover, or creative endeavor at this time. If nothing else, use this energy to write a quick email or note to someone special to let them know that they're close to your heart.
Thursday, March 27th: If you experienced any difficulties with a friendship earlier this week, today's energy should smooth things over, as Mercury in your sign will sextile Pluto in Capricorn. It seems you know just what to say to mend fences. You may also hear news about a long-term goal, or receive help on project from an important and knowledgeable person.
Friday, March 28th: With the Moon conjunct Mercury in your sign, it seems your imagination is moving a mile a minute! This influence will bless you with creativity galore, so get to work. Communications and mental pursuits are favored, although you may find yourself a little scatterbrained. Anything that needs intense concentration is best left for another day.
Saturday, March 29th: With Venus in your closure sector trine Mars in your financial house, you may hear good news regarding a sale of some kind. Be careful however, as Venus also will square Saturn in your 4th house, indicating trouble on the home front. Make sure that any decisions you make won't ruffle the feathers of a family member.