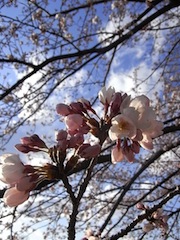 Summary: A month focused on home, family, and income. Mid-month, a career matter culminates, and you may get a new job or perhaps leave a current one. The end of the month is focused on love, fun, creativity, and it seems you may even be taking a far-away trip or working on a creative project at this time.
Extended Horoscope: Home and family seem to be on your brain these days, as the solar eclipse lights up this sector for you on April 28th. The eclipse is conjunct Mercury, and reaching out happily to Neptune in your income house, indicating that you may be looking for a new home that reflects your new salary. If you take the steps to sell your home, you may find you get a good price for your efforts. This eclipse could also indicate a family member bringing home more bacon than usual. Watch the next 6 months to see how this plays out.
May 2nd may prove to be difficult, however, as on this day Mercury and Saturn will oppose each other from your home and career houses. You may find that you are too busy with career needs to properly focus on home matters, or vice versa. A similar aspect will occur on May 10th, when it will be the Sun's turn to oppose Saturn.
Luckily, May 5th is a day when home and work needs will be in harmony, as the Sun in your home sector will reach out lovingly to Jupiter in your work and health sector. You might even take advantage of this aspect by working from home today! If you've been hoping to hear word about a beneficial relocation opportunity or new job in a different city or state, today may bring you good news.
On May 7th, Mercury makes its move into Gemini and your 5th house of love, creativity, and children. This is a great time to work on any creative projects that require a lot of thinking or writing- perhaps you even try your hand at writing a children's book! At the very least, write your honey a romantic note to let them know you care. Watch out for May 11th however, as Mercury in this sector will square Neptune in your income house, and you may find that a creative project, lover, or child requires a larger expense then you anticipated. Also on this same day, Venus in your communication house will oppose Mars in your travel house, making for some confusion between what you're thinking and what you want to say. Travel may prove troublesome at this time. Luckily, things turn around on May 12th, when Mercury reaches out to Mars, blessing any travel or writing projects with fire and motivation.
The full moon on May 14th occurs in your 10th house of career, and this could prove to be a serious time. The moon is conjunct Saturn, planet of tests and limitations, indicating that an important career moment may culminate for you. Saturn's involvement is positive in that whatever happens is totally necessary, and events will benefit from Saturn's stability. Additionally, Saturn is one of your rulers, making you likely to benefit from whatever goes down (along with our buddy, Capricorn, whom Saturn also rules). However, if you are on the wrong path, Saturn may choose to show you this now, and it could be difficult to handle. Furthermore, on the same day, Venus in your contract house will square Pluto in your house of closure, indicating that information that has been hidden from you will come out into the open, and it may be something you don't want to hear. It could even be that an important alliance has to come to an end. Think back to any career initiations launched in November 2013, after the solar eclipse in Scorpio. Whatever you began back then may reach a climax now, as this full moon occurs at a very close degree to the eclipse point.
Luckily, the following day, May 15th, is full of spark and good vibes. Venus will conjunct your ruler, Uranus, in your contract house, and the pair will sextile Mercury in your love and creativity house. A new contract may appear for a creative project, or you may decide to take a fun trip with your boo. Alternatively, you could hear exciting news about a child or sibling, or receive an exciting email or message from a love interest.
Just don't sign anything on May 18th, as on this day Venus in your contract house will square Jupiter in your work house. This would also be a poor day to travel or present a project. If you argue with a co-worker, bite your tongue- this influence will pass, but it's hard to take back words that have already come out of your mouth.
If you've been having a hard time with travel plans or the broader vision for your life or a project, you may feel relief after May 19th, when Mars goes direct in your house of travel and higher thinking. Some of you may have been undergoing a change in your belief system, perhaps getting into religion or yoga, while others have been applying to schools or completing courses of study. If you're a writer or creative, you may have been struggling with the vision of a piece of material or project, turning the pieces over and over in your mind. Still others have been working out the details of bringing on foreign business partners, or perhaps had to postpone or rethink travel abroad. Breathe easy, as you now have the chance to move forward with clarity!
May 24th could be a day to remember, as Jupiter in your work house reaches out beautifully to Saturn in your career house, and you may reach a professional achievement or receive acclaim of some kind for your work!
The month changes tone entirely once we get to May 21st, and the Sun moves into the wildly compatible sign of Gemini and your 5th house of fun, love, and children. The new moon in this sector occurs on May 28th, and it's holding hands with Mars in your travel house, indicating that fun, love, and travel will be a theme at this time. If you're looking to make a baby, this is a fabulous time to try! Another possibility is that you begin a creative writing or publishing project that could bear fruit down the line. There is one downside to this new moon however, and it's that it's square to Neptune in your 2nd house of income. A trip, love affair, or child may eat into your savings account, or perhaps a new creative project does not pay what you'd hoped.