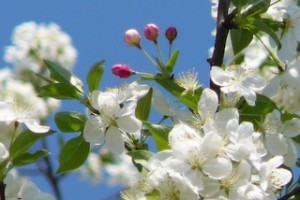 Summary: A month focused on money, work, and career. Mid-month, an issue regarding your income may come to a head. At the end of the month, your focus turns to travel, higher learning, and visionary projects.
Extended Horoscope: The solar eclipse on April 28th lights up your 8th house of shared finances, indicating you may soon have some funds headed your way. The eclipse is conjunct Mercury, and reaching out happily to Neptune in your work sector, suggesting this money could come from your job or from a particular work assignment. Nice! Solar eclipses can take some time to work their magic, so watch what comes up between now and November, when a full moon occurs in this sector. Also keep your eyes open for May 5th, when the Sun in this sector will reach out to Jupiter in your career house, and you may learn of a bonus or raise!
Unfortunately, money matters could hit a snag on May 2nd, when Mercury will oppose Saturn in your income sector. The lines between personal finances and shared finances could become blurry, or there could be a disparity between what you spend and what you earn. This influence will occur again on May 10th, when the Sun will oppose Saturn in these same sectors.
In better news, your ruler, Venus, moves into Aries and your 7th house of partnerships on May 3rd, smoothing over any difficulties that came up last month. You may have another hurdle to overcome in this arena however, as on May 11th, Venus will oppose Mars in your sign, pitting your needs up against those of another.
Also on this day, Mercury, which moved into your travel house on May 7th, will square Neptune in your work house, indicating that any travel taken for your job will not go as planned. Alternatively, writing or publishing projects could go awry, or vacation plans could be ruined by illness. Luckily, on May 12th, Mercury will beam over to Mars in your sign, putting travel, writing projects, and higher education plans back on track.
A full moon occurs on May 14th in your income house, and this could be a tough one. It's conjunct Saturn, which could be read as positive or negative! On the one hand, Saturn brings stability and strength to all he touches, but on the other hand, he is known to be a tough teacher, and the planet of limitations. You may hear jarring news about your income at this time, but it's also possible that you get a new stream of income headed your way. It may not be the highest salary, but a salary is a salary!
One thing to watch for on this day is that Venus (that's your ruler) in your partnership house will square Pluto in your home house. A romance could ruffle the feathers of a family member, or family or housing issues could put a relationship to the test. Another day that will test a partnership is May 18th, when Venus will then square Jupiter in your career house. On this day it seems the needs of a partner will be pitted against the needs of your career- it may be that you quarrel with your spouse, employer, or business partner.
Luckily, May 15th is divine, as your ruler, Venus, will conjunct Uranus in your house of partnerships, and both will reach out to Mercury in your travel house! You may take a fun trip with your love, or perhaps partner up in business with a foreigner.
Even better, on May 19th, Mars will go direct in your own sign, bringing back your drive and motivation. If you've felt a little stalled out since March, Mars' retrograde may be to blame. Projects and personal endeavors may move forward at lighting speed at this time! May 24th may even bring career recognition, as Jupiter in this sector reaches out to Saturn in your income house!
The end of the month turns your focus to travel, learning, and the higher mind- a fabulous place for the intellectual Libra. In fact, a new moon occurs in this house on April 28th, and it gives a loving smooch to Mars in your own sign! You may get a new opportunity for travel or study, or perhaps begin some kind of writing, publishing, or broadcasting project. Any projects that require long-range vision are well-starred. Just watch out, as this new moon will be angry with Neptune in your work and health sector, so things may not go exactly according to plan. Guard your health, and if you're traveling, prepare for plan B.