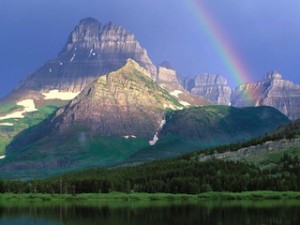 Summary: This month is focused on career and work, and you may even find yourself with a big professional win under your belt. Mid-month, a home or family issue reaches a climax, possibly netting you some funds in the process. The end of the month turns your focus to friendships and long-term plans, as Jupiter enters this sector for a whole year.
Extended Horoscope: June saw you focused on travel and higher thinking, and it seems this is still very much on your mind. Luckily on the very first day of the month, Mercury goes direct in this sector, so if travel or education plans have been in flux or delayed, everything should soon straighten out.
In fact, you may hear good news about a trip or higher education matter on July 4th, as the interplay between Mercury and the North Node is divine! Happy 4th of July, indeed! An even better day is July 6th, when your ruler, Venus, in your travel sector smooches Uranus in your partnership house. This is a great time to take a trip with your boo or partner up on a publishing, broadcasting, or intellectual project.
July 13th may also prove to be a day to remember, as Mars conjuncts the North Node in your own sign of Libra, and the pair reach out to your ruler, Venus, in your travel and higher thinking sector. You seem ready to put your own needs and beliefs front and center- whether that's through travel, education, or spirituality.
It's not all travel and learning however, as the new moon on June 27th blew a breath of fresh air into your career sector as well. This new moon came arm in arm with Neptune in your work sector, indicating you may be starting a prestigious new job or project! Nice!
In fact, career matters seem to be jacked up to full volume, as more planets crowd into Cancer throughout the month. Mercury joins on July 13th, while your ruler, Venus, does so on July 18th. And as I'm sure you remember, Jupiter has been this sector since July 2013. If you haven't felt Jupiter's shining light affect your career yet, this could be the month!
Watch July 8th and July 24th for good money and career news, as the Sun and then Mercury send beautiful beams to Saturn in your income sector. More good news may follow on July 19th and  July 24th, when Mercury and then Venus smooch Neptune in your work and health sector, further indicating that you're being noticed by VIPs and compensated nicely for your work.
Do be careful for some overlapping challenges on these days however, as it's possible that a close partnership will encounter obstacles. This is due to the Sun and Mercury's irritation with Uranus on July 8th and July 24th. You may argue with your employer or business partner, or perhaps argue with your boo about all the time you're spending at the office. July 15th and July 18th are two more troublesome days, when the Sun will be angry with planets in your own sign of Libra, again pitting professional needs against personal ones.
In addition, we have the mighty Pluto in your home and family sector facing off against several planets in Cancer throughout the month, this time pitting your family and housing needs against your career. You are likely to feel this influence most on July 4th, when the Sun will oppose Pluto; on July 21st, when Mercury will oppose Pluto, and especially on July 27th, when your ruler, Venus, will oppose Pluto.
In fact, a family or housing issue may come to a head on July 12th, when a full moon occurs in this sector and comes hand in hand with Saturn in your income sector. You may buy or sell a house at this time, receive money through family, or put money into your home to better it. It's also possible you receive income from a real estate or home construction project. A few days later, on July 20th Saturn will go direct in your income sector, and hopefully any pressure on your finances will ease up a bit.
Again, it seems a close personal or professional partnership will encounter challenges however, as the full moon angers Uranus in in this sector. Uranus will actually turn retrograde (I know- it never ends!) in this same sector of relationships on July 21st, so you may review this area of life and make changes over the next five months. Expect big news on this front in October with the Aries lunar eclipse.
The big news of the month- heck, of the whole year!- is good-luck Jupiter's entry into Leo and your 11th house of long-term goals on July 16th. Jupiter in your professional sector for the past year has hopefully been pretty amazing for your career, but it's time to take a good look at your life and make sure you're on the right path. Is that big executive title what you really wanted? Or is your real dream to move to Montana and open a bar? Perhaps getting married or having a kid is your big dream, or building a start-up company from the ground up is what you always envisioned for yourself. Shoot for the sky, and your dreams can come true between now and Summer 2015!
The 11th house also rules friendships, social plans, technology, and philanthropy, so any one of these areas of life could expand greatly over the coming year!
Watch July 25th as a lucky day, when the Sun will conjunct Jupiter in this same 11th house. Then, on July 26th, a gorgeous new moon appears in Leo that's hand in hand with Jupiter, setting a wonderful tone for long-term goals, friendships, and technological or philanthropic endeavors for not just the coming month, but also the entire year.
Just be careful, as Mars will square the pair from your own income sector, indicating that your dream, friendship, or other endeavor might prove to be expensive for you. Watch that you don't drain your bank account in the process!
This is because on July 26th, Mars enters your income sector, joining our buddy Saturn who's been there since October 2012. In fact, you may hear jarring income news on August 25th when these two powerful planets collide. It seems that whatever comes up could bruise your finances a little, but I think that whatever you spend it on will be worth it.