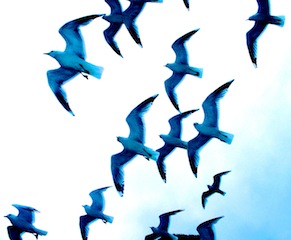 Summary: A month focused on romance and fun. Mid-month, a long-term goal may come to fruition. All month, watch your spending, and if you take any travel, be sure to prepare back-up plans in case things go wrong. Towards the end of the month, you may begin a new job or work assignment that pays handsomely.
Extended Horoscope: The new moon on May 28th occurs in your 5th house of romance and children, injecting a breath of fresh air into matters of the heart. Even better, this new moon will trine Mars in your travel house, suggesting that love and travel go together over the next year! You may go on a fun trip with your boo, or even discuss having a baby! Single water bearers may meet a new love interest in a foreign country! Just keep an eye on your pocketbook, as the moon is square Neptune in your income house, indicating that love, fun, and babies are gonna cost ya some cold hard cash.
Watch June 5th as a day when romance will shine, as the Sun in your love sector reaches out to your ruler, Uranus, in your communication and commitment sector. This is a fine time to reach out to a love interest or go on a trip with your boo. Creative writing projects are also favored.
Unfortunately, romance could go haywire between June 6th to July 1st, due to Mercury's retrograde in your fun and love sector. It's also possible that you have to go back and revise a creative project, or you could hear from an old flame out of the blue!
A long-term goal or project may come to fruition on June 12th, when there's a full moon in your house of hopes and dreams. The moon will reach out happily to the North Node in your 9th house, indicating that a writing, publishing, travel, or higher education matter will bear fruit. Just keep your ears open, Mars in this same travel house will square Pluto in your secretive 12th house, indicating that travel will be difficult.
Additionally, Venus and Saturn will oppose each other in your home and career houses on this day, indicating that career obligations could get in the way of any family plans. Luckily, work and home needs will be in sync by June 17th, when Venus in your home sector smooches Jupiter in your 6th house of work and health.
You might turn your attention entirely over to your job by June 21st, when the Sun enters Cancer and your 6th house of work and health. In fact, a new moon occurs in this sector on June 28th, indicating you may even start a new job entirely! It's also possible that you get a beneficial new work assignment, co-worker, or assistant. Because the new moon is arm in arm with Neptune in your income house, it seems you'll be paid handsomely for your efforts. Go you!
Just watch out for June 23rd, as work and travel matters could go wrong this day when Jupiter angers the North Node. Another poor travel day is June 24th, when Mars will oppose your ruler, Uranus, in your communication and travel sectors. This would not be a good time to sign a contract or make an agreement. If you go on a trip, make sure to prepare for Plan B!
Luckily, the end of the month isn't all business- you also get to continue the romance and fun party all month long, since Venus enters your 5th house of love and creativity on June 23rd. Just watch that all that romance and fun doesn't wipe out your bank account, as June 29th could bring an unexpected expense.
All in all, June is looking great!