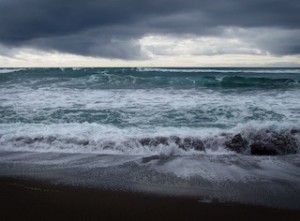 Summary: The beginning of the month could bring unexpected turbulence to your home and career sectors, causing you to make snappy decisions and possibly some sacrifices to a partner. Mid-month, a lunar eclipse occurs in your opposite sign of Libra, and a partnership could either become official or fall apart. The end of the month brings good vibes to your finances, as you appear to begin a new job or project that could net you some stellar funds.
Extended Horoscope: My oh my, are you in for some changes this month, Aries! A new moon charges up your sign on March 30th, and it comes closely conjunct Uranus, indicating that news or an opportunity will come up out of the blue for you. The Moon will square Jupiter in your house of home and Pluto in your career sector, suggesting that these two areas will be thrown for a loop.
Your employer may unexpectedly ask you to relocate, or perhaps a new housing opportunity means that you'll have to find a new job. Whatever it is seems to play out all next week, as the Sun squares Jupiter on March 31st, conjuncts Uranus on April 1st, and squares Pluto in Capricorn on April 2nd. April Fool's Day indeed!
Additionally, Mars is currently revving up your partnership zone, and its retrograde could mean that you're feeling a little stuck in the mud with your romantic or business partner. On April 7th, Mars will oppose the Sun in your sign, and you could feel pulled between your own needs and your partner's. Perhaps it's your partner who wants to move, but you don't, or maybe you're ready for a change, but your partner wants to stay put. As an Aries, you're not (ahem) totally used to putting others first, but this month it seems you'll have to, as a lunar eclipse occurs in Libra and your 7th house of partnerships on April 15th.
Because the eclipse will conjunct the North Node, I feel you will hear good news, as the north node is known to bring good luck to the houses it transits. Maybe you become engaged or married at this time, or simply decide to become exclusive. It seems the Universe is pushing you towards melding your life with another, instead of always putting your own needs first. There's always a chance you break up, but if so, it appears to be so that you can meet someone more serious about sharing a life with you.
There's a chance this could be an upsetting time for you, and this is because at the same time as the eclipse, Mercury will be making the same series of difficult aspects that the Sun just finished. Boo! On April 13th, Mercury in your sign will square Jupiter in your home sector, on April 14th it will conjunct Uranus and square Pluto, and on April 15th (the same day as the eclipse) it will oppose Mars in your partnership sector. Emotions are bound to be heated, so try to keep a level head.
Everything will come to a head on April 21st, as a four-way square (cardinal square) occurs between Mars in Libra, Pluto in Capricorn, Jupiter in Cancer, and Uranus in Aries. Because this takes place on the angles of your chart (your 1st, 4th, 7th, and 10th houses, otherwise known as your self, home, partner, and career houses), you're going to feel this one, and it might not be too pretty, so hang in there. This is especially true the closer your birthday is to April 4th or 5th. Take a bath, drink a glass of red wine, and know that this too shall pass!
You'll also feel this influence if you have any planets close to 13 degrees Capricorn, Libra, Cancer, or Aries. If you don't know your natal chart, take a look here. Whichever house holds that planet or point should be affected. While you're there, be sure to take note of your rising sign, and be sure to read your horoscope for that sign as well. It's just as important!
Luckily, things calm down almost immediately, and the rest of the month is much easier to deal with! Venus, which entered your closure sector on April 5th, makes a rare trine to Jupiter in your home sign on April 17th. If you are looking for housing, this is a beautiful aspect! Additionally, on April 24th, Venus will trine Saturn in your 8th house of other people's money, indicating that money could come from the sale of a possession or creative work, or from an inheritance of some kind. Nice!
In fact, the end of the month might see you heavily focused on your finances, as the Sun moves into Taurus and your 2nd house of income. On April 24th, the Sun will conjunct Mercury in this sector, and you may get a lucrative contract of some kind! Even better, on April 28th, a lovely solar eclipse occurs in this house, and it's not only conjunct Mercury, but also sextile Neptune in your endings house, and trine Pluto in your career house! You may begin a new job with a great new salary, perhaps in a creative field or a medical or institutional sector! All in all, I'd say the end of April is shaping up MUCH better than the beginning.