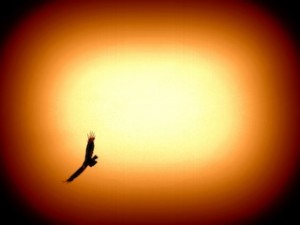 Summary: A month focused on new initiations, romance, and creativity. A partnership matter will climax mid-month, and it could revolve around a child. The end of the month is focused on your finances, and all signs are pointing to a bountiful financial payoff from a career endeavor.
Extended Horoscope: A new moon occurs in your sign on May 28th, marking the beginning of your own personal new year! Happy day! The moon is reaching out happily to Mars in your 5th house of true love, so if you're single, this just might be the time when you meet someone special. If you're in a relationship, you may enter an especially romantic period, perhaps even discussing having a child or discovering a pregnancy!
Unfortunately, the moon will anger Neptune in your career sector, suggesting that whatever comes up may be at odds with professional plans. It's also possible that you launch a creative project or hobby that comes with some challenges, or perhaps work gets in the way of leisure plans.
Watch June 5th as a day when good news may come your way, as the Sun makes waves with surprise a minute Uranus in your hopes and dreams sector.
The other big news of June is Mercury's retrograde from June 6th to July 1st. You may need to re-adjust personal plans at this time due to information that came up at the new moon. Mercury also rules your home sector, so you may rethink or re-do your housing or family needs at this time. Mercury is your ruler, so you feel his retrograde more than most. Try to save any major initiations until July (unless you can squeeze them in before June 6th).
Venus spends most of the month in your closure sector, suggesting that love is private, romantic, and behind the scenes and this time. She makes lovely connections to dreamy Neptune and transformative Pluto on June 4th and June 8th respectively, bringing good luck to marriages and shared finances. This could also apply to a work situation, as you may celebrate a career win or financial bonus.
Once Venus moves into your sign on June 23rd, your love will be loud and proud. Venus in your first house is a lovely, healing influence all around, and a great time to make any personal style updates such as a new wardrobe or haircut. Just hold off until July when your ruler, Mercury, will be direct again. Don't worry- Venus will be in your sign until July 18th so you'll have plenty of time!
June 12th sees a full moon in your partnership sector trine the North Node in your love, children, and fun house, further indicating that romance and children are on your mind in a big ol' way this month. You may make it official with your boo, perhaps becoming engaged or discussing a baby. Notice that's the second time I've said the baby thing…if you're not interested in that at this time, watch yo self, because you or your partner could be a fertile mertyl at this time!
Unfortunately, this same day sees Venus oppose Saturn in your work, health, and closure sectors, indicating that this lovely moon could be marred by worries on the job or a health concern. Pesky Saturn has been putting a ton of pressure on a work or health issue since October 2012, and it seems he'll never let up! Don't worry- by the end of the year, Saturn will leave this sector entirely (although he will return briefly in 2015), and his tough lessons will ease up this area of life.
Watch June 14th as a day when an unexpected expense could crop up, as Mars angers Pluto in your love and finances houses. A child or love affair could prove costly, as could a hobby or leisure activity.
Luckily, June 17th appears to be a lovely day for finances, as beneficial Venus smooches Jupiter in your income house, indicating money could come in from the sale of a project or product, or a from a creative work of some kind. In fact, your focus soon turns entirely to your income, when the Sun enters this sector on June 21st.
But first- June 19th could bring big personal news, as the Sun conjuncts your ruler, Mercury, in your own sign of Gemini. Mercury also rules your 4th house, so news could have to do with a family or housing issue.
Watch June 23rd and June 24th as two sticky days when romance, children, and leisure activities could again prove problematic. You may hear discouraging money news, or a long-term goal or friendship could hit a snag.
Luckily, the new moon in your income sector on June 27th is a real beauty, and just might save the day in regards to any money problems you're having! In fact, this moon is gorgeously aspected to Neptune in your career sector, indicating that a huge salary bump may be on its way to you! Nice! This is such a gorgeous aspect, and it will set the tone for the whole financial year for you. Giddy up!
Gemini Full Yearly 2014 Horoscope