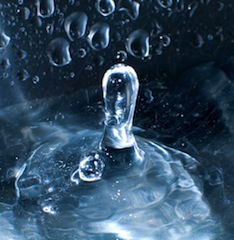 Summary: The beginning of the month may bring dramatic changes to your career, as a difficult new moon sweeps in an opportunity that could disrupt your plans in a big way. Mid-month, a housing or family matter may climax, due to the lunar eclipse in Libra. All month, there's a push and pull between the needs of family and the needs of your career, and at times you may feel pulled in way too many directions. Luckily, the end of the month brings a friendly solar eclipse that could speed up a long-held personal dream of yours, possibly having to do with romance or travel.
Extended Horoscope: Hope you're ready to shake up your career, cause this month could get a little wild! March 30th brings a new Moon to your 10th house of fame and professional pursuits, and the Moon is square to both Jupiter in your sign and Pluto in your 7th house of partnerships. Because the Moon is conjunct Uranus, it seems events will come up very quickly and seemingly out of the blue, and because the Moon is your ruler, it seems you're going to feel this one!
You may get a new career opportunity that's exciting, but also a little scary. Perhaps this new job disrupts plans you had with your spouse or significant other, or is a big step up for you in some way. Alternatively, shake-ups may come to an existing job, and you may argue with an employer or business partner, causing you seek to seek another, better situation. This will probably play out over the whole first week of April, as on March 31st, the Sun squares Jupiter in your sign, on April 1st it conjuncts Uranus, and on April 2nd it squares Pluto.
It seems that whatever comes up could affect your home situation as well, as Mars is currently retrograde in this sector. On April 7th, Mars will oppose the Sun in your career house, pitting your home needs against your career needs in a big way. It seems both places need your attention, and there's only one of you! Perhaps your job needs you to relocate, but you are quite happy with the home you have. Alternatively, perhaps you were planning on moving away, but an opportunity here is tempting you to stick around.
Whatever it is will come to a head on April 15th, as a lunar eclipse occurs in your 4th house of home. A housing or family matter will come to a climax, and it will conjunct the North Node in this same sector. Because the north node tends to bring good luck to the houses it transits, I feel you will happy with the news. However, because lunar eclipses tend to cause endings, they can be difficult no matter how "good for us" they are.
Another reason why it may be hard to appreciate any good home news is the fact that Mercury will be throwing a fit in your career house at the exact time time as the eclipse. That's right, now Mercury is in your 10th house, and performing the same series of difficult aspects that the Sun just finished up! Doh! On April 13th, Mercury will square Jupiter in your sign, on April 14th it will conjunct Uranus and square Pluto in your partnership house, and on April 15th (the same day as the eclipse!) it will oppose Mars in your home house.
And I'm not even done yet! These planets have all been preparing for their dramatic grand finale, which occurs on April 21st. At this time, Jupiter in your sign, Mars in your home house, Pluto in your partner house, and Uranus in your career house will form an exact square at 13 degrees of Cancer, Libra, Capricorn, and Aries. If you have a planet, point, or cusp in one of these signs close to 13 degrees, you are likely to feel the burn. If you don't know your natal chart, check it out here. Whichever house contains that point or planet is likely to be affected. While you're at it, take note of your rising sign and always read your horoscope for that sign as well! It will provide you with a more complete snapshot of your chart.
Let's move on to some pleasant news now, shall we? Venus enters Pisces and your 9th house of long-distance travel on April 5th, blessing this area with good luck and romance. On April 11th, Venus will conjunct Neptune in this house, and you may find yourself on a trip to remember! April 17th is another great day, when Venus will trine Jupiter in your sign, and also reach out to Pluto in your partnership sector. If you're dating, you may become exclusive at this time, and if you've been dating for a while, you may even become engaged! April 24th is another beautiful day for love, as Venus will trine stable Saturn in your 5th house of true love. You may make a serious commitment to your honey at this time, perhaps while on a fun vacation together! You may even decide to try for a baby, or discover a pregnancy!
It seems your future is definitely on your brain, as the Sun enters this sector on April 20th. On April 24th, the Sun conjuncts Mercury in your 11th house of hopes and dreams, and a wish close to your heart may come true! Even better, a solar eclipse occurs in this sector on April 28th, that's conjunct Mercury, sextile Neptune in your travel sector, and trine Pluto in your partnership sector. Over the next 6 months, you may take the trip of a lifetime with a partner, or go into the business of your dreams, perhaps something involving travel or a foreign company. All in all the end of April is really shaping up to be special!