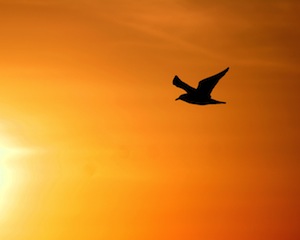 Summary: A month focused on relationships and long-term plans. Mid-month, a goal close to your heart could culminate with the full moon in your sign. Finances are up and down all month, but the new moon at the end of the month could see a home loan or family inheritance pull through.
Extended Horoscope: The new moon on May 28th occurs in Gemini and your 7th house of relationships, indicating new beginnings in this area of life. The moon is reaching out happily to Mars in your sector of long-term goals, suggesting that you may be preparing to take a big new step with a partner- perhaps becoming exclusive, moving in together, or even becoming engaged. It's also possible that you partner up on a business venture- perhaps something to do with technology, or maybe on an idea you came up with alongside a friend. Whatever comes up seems to disrupt your home life in some way, as the moon is square Neptune in this sector. Perhaps your partner or a job needs you to move against your wishes.
June 5th is an especially good day for relationships, as the Sun in this sector pings Uranus in your love house. If you're single, this is a great time to go out and try to meet someone, and if you're already in a relationship, you may feel a breathe of romance injected into your life at this time. You may even discuss having a baby!
The big news for June is Mercury's retrograde from June 6th to July 1st. Mercury begins in your 8th house of shared resources before moving backward through your relationship house. If you need to discuss financial issues with your boo before taking a big step, this may be the time to do so.
Additionally, it seems something really important to you is coming to fruition on June 12th, when there's a full moon in your sign. The moon will reach out to the North Node in your long-term goals house, suggesting that whatever comes up will be in place for a very long time. Think back to any beginnings initiated around your birthday, as what was started then may reach a climax now.
While the moon itself is friendly, there is some turbulence in the air going on at this time. Venus will oppose Saturn in your work and closure sectors, indicating that work and health could be areas of stress for you. Be sure to eat your veggies, work out, and wash your hands. Also beware of underhanded co-workers who may try to deceive you. Two days later, on June 14th, Mars will square Pluto in your friendship and income sectors, suggesting that a long-term plan or social engagement could be expensive for you!
Luckily, a day that's sure to shine for you is June 17th, when Venus reaches out happily to your ruler, Jupiter, in your money house. It's possible that you get a bonus at this time to save the day- lucky you! This is also a good time to heal an illness, but if you can wait to schedule surgery until after July 1st, that is advisable. We always want to avoid going under the knife when Mercury is retrograde, as Mercury rules doctors. That is unless your doctor says you need the surgery immediately, then please follow his or her orders.
Other good work and health days include June 4th and June 8th– days when Venus will work with Neptune and Pluto to see that you are happy and healthy in your job and paid well for your time.
Some days that are not so good are June 23rd and June 24th. On the 23rd, your ruler, Jupiter, will anger the North Node, and a long-term goal could hit a financing snag. On the 24th, Mars will oppose Uranus in your love and friendship houses, pitting these areas of life against each other. It seems duties and obligations could get in the way of personal plans, or your boo could get jealous of all the time you're spending with your friends.
On June 21st, your focus turns to financial matters, as the Sun enters Cancer and your 8th house of shared resources. The new moon in this sector occurs on June 27th, and is making beautiful harmony with Neptune in your 4th house of home. It seems you may apply for a home loan at this time, or even put a down payment on a house. It's also possible that you receive an inheritance or familial cash gift, or recover peacefully from surgery at this time. Watch June 28th as a day when news could come, as the Sun reaches out to Neptune.
Partnership matters continue to get a boost after June 23rd, as Venus makes its way into this sector to inject romance into your love life. Just watch out for June 29th, as Venus angers Neptune, and a home or family issue could cause tension.
Sagittarius Yearly 2014 Horoscope
Sagittarius May 2014 Horoscope