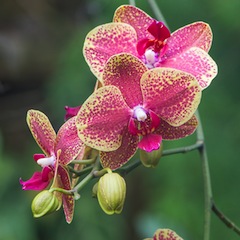 Sunday, March 23: With the Sun traversing your most private house, you seem to be wrapping up projects and plans that no longer serve you. You need to clear out the old in order to make way for the new things that are headed your way at the end of April, when there's a gorgeous solar eclipse in your sign. For now, though, you may feel drained or reclusive. Luckily you have cosmic permission to retreat and recharge! Today might be a tough one for you however, as the Sun squares the Moon in your 9th house of travel and belief systems. A publishing or broadcasting project may go awry, or you may feel discouraged about a travel or higher education matter. Alternatively, you may be struggling within your mind, as a belief system is challenged or questioned. Although this is a passing influence, the planets will brew up more trouble in these sectors by the end of the month, so take whatever comes up seriously.
Monday, March 24: It seems your belief system has been undergoing some serious changes since 2008, when Pluto entered Capricorn and your 9th house. You may have moved abroad or found foreign people or places to be prominent in your life. Alternatively, you may have become a teacher or writer, or entered a higher learning institution. If none of these apply, perhaps you joined a certain religion or you've been questioning an existing religion, or you've gotten into yoga or astrology. Today, the Moon joins Pluto (as it does once a month), bringing this part of your life to the front of your mind. Harness this powerful energy to make any positive changes you need to in these areas, but watch that you do not become a fanatic.
Tuesday, March 25th: Career matters should go smoothly today, as the Moon in this sector is friendly angle to the Sun in your 12th house. This is especially true if you work in a creative or medical field. Alternatively, you may be ending a job or project, and if so, it seems to be for the best. Although there could be some emotions involved in letting go, the Universe is asking you to make space in your life for all of the new beginnings soon headed your way.
Wednesday, March 26th: Today is one of the best days of the year, as Mercury in your 11th house of hopes and dreams trines Jupiter in your communications and contracts house. Long-term goals are well-starred today, and you may even make a commitment for a new venture or business that could be very beneficial for you. Alternatively, you may begin a writing or technology project, such as a blog, website, or app. If you need to sign a contract, you have the go ahead from me!
Thursday, March 27th: Long-term goals continue to be well-starred today, as Mercury in this sector now reaches out lovingly to Pluto in your 9th house of travel and belief systems. If you're taking on a foreign partner for a business, this aspect is mighty fine for you. Another possibility is that you're traveling with friends, or perhaps planning for an upcoming trip. You have wonderful aspects for this, so get to planning! At the very least, grab your pals for a night of karaoke or Mexican food. The conversation will be merry, and you'll have a great time!
Friday, March 28th: With the Moon conjunct Mercury in your 11th house of hopes and dreams, it seems that long-term goals, friendships, and group collaborations are on your mind. You may find yourself full of ideas and enthusiasm for a project, and you'll have the motivation to put those ideas into practice (although who are we kidding? You're a Taurus. You're always motivated to get.things.done). Today is also a great day to spend with friends. Let the wine and conversation flow, and appreciate the good people in your life.
Saturday, March 29th: With your ruler, Venus, currently gliding through your 10th house of career, you may be on professional fire these days. You're kicking arse and taking names, activities that are right up your alley. Today may see you burn it up even more brightly, as Venus makes a lovely trine to Mars in your 6th house of work projects. All the pieces may come together for an assignment that brings you much acclaim. While this is a lovely aspect, it seems you'll have to deal with the ire of a partner- perhaps a spouse or employer- as Venus also squares Saturn in your 7th house of partnerships. Perhaps you blew off plans with your boo for your boss, or maybe your boss is feeling a little threatened by your amazing career streak. These aspects all take place on the fixed axis, and you my dear, are a fixed sign, so you're probably gonna feel the burn on this one.